Improve Mental Toughness for Karting!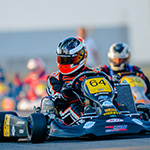 Discover powerful mental game tools to boost mental horsepower for karting or drag racing! Learn the winning mental strategies to improve confidence, teamwork, and consistency!
Karting teams spend more time and money on equipment than any other sport. But even the most talented team with the best equipment can't reach peak performance if they aren't mentally prepared for competition.
Think about it… How many times has a breakdown in driver focus, or indecision by the crew cost you a podium finish? Or how often do you find that lack of teamwork costs you valuable seconds? Do you or your team have the confidence, focus or composure to power the attitudes that lead to championship behaviors?
"Hayden has been very verbal about how much mental coaching with Dr. Cohn has helped him with his karting. We have seen a big difference in his confidence and he has repeatedly said how much he values the mental coaching with you. Thanks for all of your help!"*
~Chris Bradley, Parent
Dr. Cohn has helped 1000s of athletes over the past 25 years to improve their mental toughness and get the mental edge. Dr. Cohn has helped NASCAR winners, national champion motocross racers, cart racers, drag racers, and champ car drivers improve their mental toughness and win.
He's the author of The Confident Racer CD program for auto racers and Arm Pump Solved CD program for Motocross the popular Confident Athlete Workbook and CD series. He is also the creator the Mental Game Coaching Professional Certification.
Get the Mental Edge
Our exclusive mental game coaching programs for racing will help you:
Develop prerace routines and mental strategies to enter the zone
Maintain composure and momentum after mistakes
Take your practice lap times to competition consistently
Uncover doubts and be proactive with your self-confidence
Increase the consistency of performance with prerace routines
Manage distractions and perform with laser-like focus
Customize Your Mental Coaching Program
You can improve your mental game one-on-one with Dr. Cohn himself in Orlando Florida or get coaching from anywhere in the world via telephone, Skype, or video conferencing with Dr. Cohn himself.
All programs include the Drivers Mental Aptitude Assessment (DMAP), a custom mental game plan, weekly coaching sessions, unlimited email correspondence, and mental edge workbooks or performance boosting eBooks.
One-on-one mental coaching is the fastest and most effective method to improve your mental game, boost your performance, and make lasting changes.
We have a variety of mental coaching programs to choose from.
Contact Dr. Cohn at Peak Performance Sports or call 888-742-7225 today for a free 15-minute mental game evaluation!
---
Disclaimer
*Testimonials found on this site are examples of what we have done for other clients, and what some of our clients have said about us. However, we cannot guarantee the results in any case. Your results may vary and every situation is different. No compensation was provided for these testimonials.