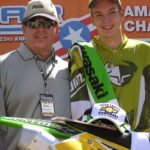 Discover how to quickly sharpen your race focus, boost confidence, and stay in control on the track! Dr. Patrick J. Cohn, sport and racing psychology expert, helps racers in all motor sports to improve mental toughness for racing — and reach peak performance on the race track.
If you're not performing up to your potential on the track, you'll want to take a good look at your mental game of racing. Dr. Cohn is the author of the CD programs, The Confident Auto Racer and Arm Pump Solved. He's worked with National Champions in Motocross to NASCAR winners to help them get on the podium.
At Racing Psychology, you can read mental game articles or browse our mental training programs for auto racers, drag racers, motorcycle racers, and motocross racers. Please browse our racing psychology articles for racers.
Dr. Cohn provides peak performance strategies for motocross, auto, and motorsports racers. Learn how to improve your performance by improving your mental game of racing using sports psychology strategies.
Please browse our racing mental training programs: