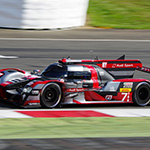 In drag racing, how can you maintain focus from qualifying to eliminations? In motocross, how can you maintain focus for all three motos in a race? In auto racing, how can you maintain focus from qualifying though the entire race weekend? I answer these questions in today's racing psychology blog.
Your ability to stay focused from practice to qualifying to later rounds or motos is very important to your performance. I want you to understand that you don't need to be dialed in or focused every single minute you are at the track – it's really impossible.
You could actually spend your mental energy worrying about the upcoming elimination or moto. You want to "reserve" your focusing powers for when it's needed.
Besides working with many racers, I also specialize in working with golfers. A round of golf can last up to five hours including a warm up routine. No golfer can focus effectively for five hours straight and you can't either during a race weekend! You would be spent mentally at the end of the round and not be able to focus your best.
I instruct my golf students to relax their focus between shots and only tighten their focus when needed to hit a shot. When they do this, they are saving their mental energy for when it's critical – the 30 seconds needed to prepare for one golf shot.
You can apply the same strategy to your racing.
If you are a drag racer, you only need to be focused for a few seconds prior to your run and a few seconds during the run. Same with motocross… You only need to be focused for your prerace routine and a 20-minute moto.
You should "save your concentration" between motos or eliminations. And when it's time to race, you want to get your game face on.
I know some racers that become so worked up or worried about the final moto or elimination rounds that they cannot focus their best when needed the most. They already are spent thinking too much about the podium possibilities or outcomes. You can tighten yourself up into a ball of knots and spend too much energy fretting about the upcoming round or moto.
The bottom line… You should relax your focus between motos or elimination rounds. Save it for your pre-run or pre-moto routine.
However, you need to have a key to help you get dialed in again. This is a trigger to help you get your game face on when it's time to go into the next round or moto.
So hang loose in the trailer or at the pits. Shoot the stuff with your team or buddies. Try not to focus on the race until you are ready to get your gear on.
Please leave me any comments or suggestions for articles below!