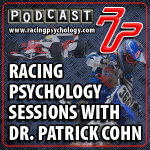 Motocross and auto racing mental training expert, Dr. Patrick Cohn, at racingpsychology.com interviews Motocross champion, Jeff Emig, on how to have mental toughness in racing.
In 1997, Emig had one of his best seasons. In the 13 round series he won seven races finished second five times and had one fifth place. He won 17 of the 26 motos that year. He scored four championship titles in the 1990s when racing with Yamaha and Kawasaki
In today's mental training session for racers, I discuss the top mental preparation strategies you can use to if you are limited on time.
Learn how to improve your performance with mental skills training: Jeff and I discuss confidence and patience in racing.
Listen to this podcast on "mental toughness in motocross racing" to learn racing psychology tips to prepare mentally for a race!
Use the player below to play the podcast:
Download a free racing psychology report:
10 Tips for Improved Mental Horse Power