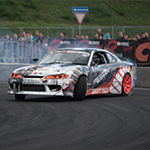 I tuned in to watch some NHRA drag racing last night because one of my Pro-Stock Motorcycle mental coaching students was racing in the final. What caught my interest was the Funny Car final between John and Ashley force – a father-daughter duel.
What a unique situation… Ashley Force was racing to be the first woman to win a national race in Funny Car. And father John Force was trying to notch his 1000 round.
Ashley won in a dramatic final. She beat her father, John Force, a legend in drag racing. John made an unexpected mistake when he lost traction at the start of the race.
What I found interesting from a mental game perspective was John's emotions before the race. He did a TV interview and was obviously torn up inside…
"There are a lot of mixed emotions. When I turn off the switch. If I win, that's great but if she wins, that's something really special, too."
~John Force, prior to the final round
John Force is a legend in the sport, but I think he lost focus because of the situation. Sometimes it's hard to not let your emotions and distractions get to you – instead of focusing just on your lane.
I also know he was concerned with the grip in the left lane prior to the run. Almost as if he got it in his head that he would have grip issues.
Was the grip issue a prerace excuse for not getting it done? Was the grip in the left lane a real concern? Did it affect his focus on the hole shot and cause him to spin out?
No one really knows but John Force, but I think it got into his head. Any time you are worried about something that might block you from success, such as your grip, a hole in the track, a massive rut you have to negotiate for example, you focus too much on what you don't want to happen.This is a mental game boo-boo.
I promised to give you a few details of my brand new live coaching program for racers only. I have decided to do a 12-week live group coaching program. This allows you time to put your new mental strategies to work and make any adjustments that are needed too.
Here are a few more details of the program:
You will take part in 10 one-hour mental coaching sessions
You will get MP3 recording of each session for your review
You will get a 10-chapter workbook to guide your through my system
You get email coaching between sessions and for a two-week follow up
MP3 audio and transcripts of interviews I have conducted with top auto and motocross racers on the mental game of racing.
I'll spill all the details next week on May 6, 2008. However, I have a lot of interest in this program.
If you want to "get in line" please send me an email to put you on the list. This way, you will have the first option to be a part of the 10 racers in the program!