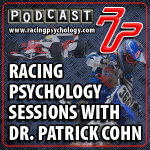 Over the next few months, I will be answering racers questions on the
mental game of racing
via my new podcast for motocross and auto racers. If you want me to answer your question, please contact me at
Sports Psychology for Racers and Athletes
.
In today's racing psychology session, I introduce mental training in racing for motocross and auto racers.
I answer the following mental game of racing question:
"What is racing psychology and how can it help me improve my performance?"
Racecar driver psychology or mental training for motocross helps motor sports racers who are struggling with the self-confidence, focus, or composure on the racetrack. I help auto and motocross racers who are in a confidence slump, distracted at the track, or are returning from a racing injury and need to trust their driving or riding skills again.
In addition, mental game of racing strategies helps racers who want to improve consistency, improve lap times via mental training, or just want to think better on the racetrack. I help racers learn how to prepare mentally for races by use a prerace routine build on proven motor sports and auto racing mental game techniques.
Listen the first podcast on "What is Racing Ppsychology?" to learn more about how to mentally prepare yourself for a big race!
Use the player below to play the podcast: