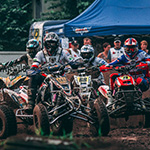 One of my biggest challenges for racers is the ability to bring their physical skills or ability to the track on race day. Do you look like a star in practice when it doesn't really matter, but then under perform on race day because now it matters? If you answered "yes" this is the number one sign that your mind is getting in the way of your performance. You must have both confidence and trust to perform your best on the track.
You might under perform in racers for many reasons. Some racers put too high of expectations on their performance and then over-drive or try too hard on the track. They become over-aggressive, make mistakes, and then lose time.
Some racers perform too tentatively in races and are afraid to race on the edge for the fear of making mistakes or wrecking. If you hold back, avoid mistakes, and are overly reserved on race day, you don't trust what you have practiced.
A few of my race students focus too much on results and getting on the podium. They put the cart before the horse as we say. Their mind races ahead to what others might think if they lose the lead or choke in the last two laps of the race. You can't race your best when your mind races ahead to the podium and you leave your body in the car or on the bike with three laps remaining.
You have two options to help you take your practice skills to race day. The first option is to practice in a way that helps you compete better. The second option is to change your thinking on race day…
Option one is easier for most racers to do, but might not solve the dilemma of under performance on race day. The objective is to make every lap in practice like a lap in the race. You must have the same intensity and focus in practice as you do on race day.
Option two – change your attitude on race day – is more difficult to master because you first have to uncover exactly how your mind is sabotaging your performance. Once you know how you undermine your performance with faulty thinking, you are in a position to change and improve your mental game of racing.
In the next few weeks, I will be launching a new mental coaching program for racers to help you identify mental barriers and help you take your physical skills to the track without needing seat time or practice. You will learn the top 10 mental toughness skills for racers.
Right now, please leave your comments about how your mental game changes from practice to races.
For example, do you get tight in races, try too hard, lose your focus, become more tentative, or something else?